Consultation session for prospective students in Sapporo 【Sapporo venue】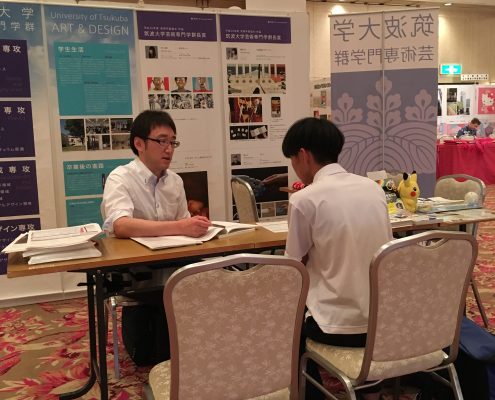 We recently participated in a consultation session for prospective students in Hokkaido (Sapporo-shi).
Where: Royal Hall, Level 3, Hotel Sapporo Geibunkan
When: Tuesday, July 31, 1:00 p.m.–5:00 p.m.
Title: Art, design, and creative craftsmanship exhibition + consultation session【Sapporo venue】
Host Organization: Sanpou
We plan to hold consultation sessions in all regions in the future. Please join us.
An Open Campus will be held at the University of Tsukuba on Saturday, August 4. We would love if you participated in this as well.
The faculty members of the School of Art and Design will be there to help on the day.
Links to related information
https://www.geijutsu.tsukuba.ac.jp/school/wp-content/uploads/sites/52/2018/04/school_logo_f.png
0
0
hnaka
https://www.geijutsu.tsukuba.ac.jp/school/wp-content/uploads/sites/52/2018/04/school_logo_f.png
hnaka
2018-08-02 23:45:55
2019-06-06 19:12:41
Consultation session for prospective students in Sapporo 【Sapporo venue】