We have published the CAIR 2022 catalogue!!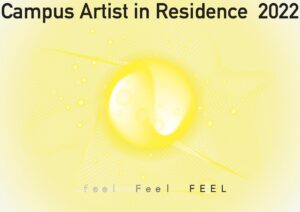 CAIR Working Team. (Eds). (2022). CAIR 2022: FEEL. Faculty of Art and Design, University of Tsukuba.
CAIR 2022の記録として『CAIR 2022: FEEL』を刊行しました。2ヶ月に渡るコラボレーション制作や交流の過程とその成果、招へい教員を交えてのコラム、各種プログラムの様子などを盛り込んだ、日英両言語による公式カタログです。
We have published CAIR 2022: FEEL catalogue. This is the official catalogue in both Japanese and English, which contains: the process of 2 months art making/communication and its results; the collaborative column with guest teacher and images of the various programmes.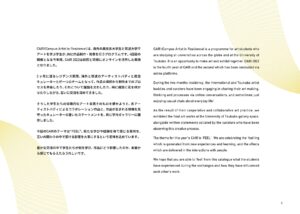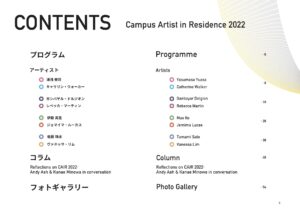 カタログの一部を、こちらからご覧いただけます。全てのページをご覧になりたい方は、CAIRワーキングチームまでお問い合わせください。
You could see some contents of the catalogue here. If you would like to enjoy the whole, please directly contact with the CAIR working team.