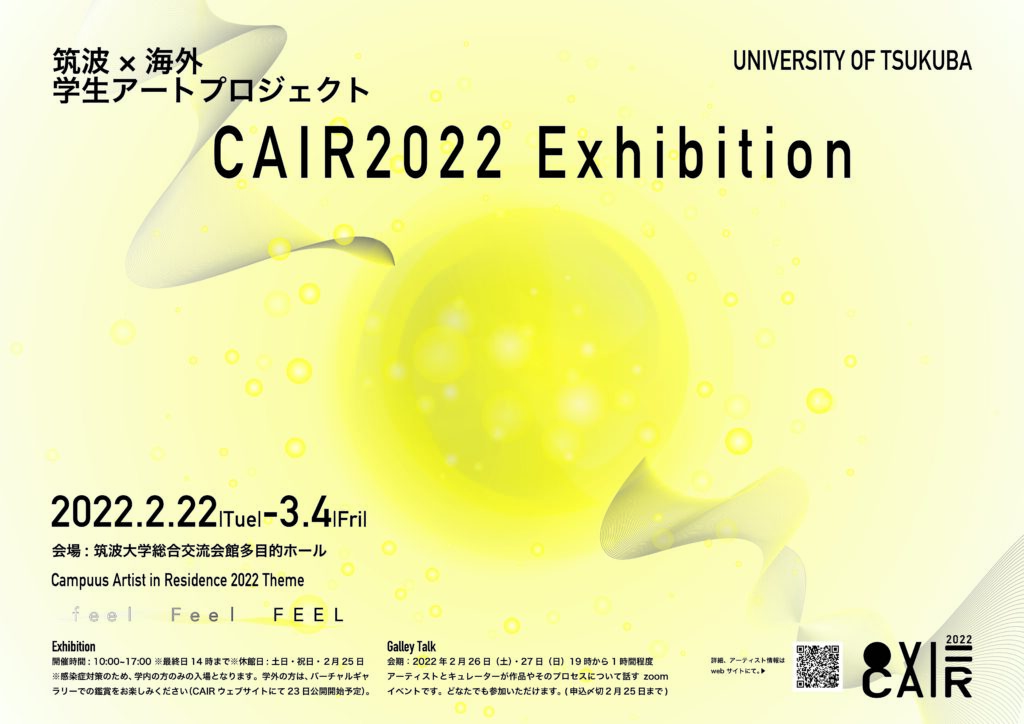 4回目の開催となる今年度、CAIR2022は前回と同様にオンラインを活用したプログラムを実施してきました。今回のテーマは「FEEL」。新たな学びを得た時や、互いに影響を受けた時に感じる気持ちや心の変化を大事にするという意味が込められています。交流の中でアーティストが何を学び、作品にどう影響したのか、感じて頂けますと幸いです。
また、参加アーティストとキュレーターによるギャラリートークをzoomにて開催いたします。どなたでもご参加いただけますので、ご希望の方は、下記の開催概要を参照の上、お申し込みください。皆様のご参加をお待ちしています。
This is the fourth year of CAIR and the second which has been conducted via online platforms. The theme for this year is 'FEEL'. We are celebrating the transformational experience that can occur during the dialogue around and the process of art making. We hope that you are able to 'feel' what the artists have learnt during the exchange and how they have influenced each others work.
In addition, a gallery talk by the artists and curators will be held via zoom. Everyone is welcomed. Please find the following details and register to join. We look forward to your participation.
オンサイト(現地)展示
※感染症対策のため、学内の方のみご入場いただけます。
*Only students and staffs at the University of Tsukuba will be able to enter the venue so as to minimize contact and covid exposure.
会期:2022年2月22日(月)~3月4日(金)
開館時間:午前10時~午後5時(最終日午後2時まで)
休館日:土・日、祝日、25日(金)
会場:筑波大学総合交流会館多目的ホール・マルチメディアルーム
Schedule: Tue 22/2/2022 – Fri 4/3/2022
10:00-17:00
*The last day will open until 2pm.
*The Gallery will be closed on 23/25/weekend.
Venue: University of Tsukuba 30th Anniversary Hall
オンライン展示 Virtual Exhibition
公開期間:2022年2月23日(火)~3月31日(木)
会場:Matterport(公開期間終了後、Artstepsに移行)
Schedule: Tuesday, February 23, 2022 – Monday, February 28, 2022
Venue: Matterport (After the exhibition period, the exhibition will be moved to Artsteps)
ギャラリートーク Gallery Talk
アーティストとキュレーターが作品やそのプロセスについて話すzoomイベントです。
どなたでも参加いただけます。(申込〆切2月25日まで)
This zoom event will provide the artists and curators talk about their work and process.
Everyone will be welcomed.
*Book your seat by 25 Feb
申し込みはこちらから Click here to register
日時:2022年2月26日(土)・27日(日)午後7時から1時間程度(日本時間)
会場:zoom(URLはメールアドレスにお送りします)
参加アーティスト(予定)
26日:キャサリン・ウォーカー&湯浅泰将、ヴァネッサ・リム&佐藤珠水(UCL × 筑波大)
27日:レベッカ・マーティン&ガンバヤル・ドルジオン、ジェマイマ・ルーカス&伊藤真生(Victorian College of the Arts × 筑波大)
(※各回異なるアーティストが登壇しますので、ご確認ください。)
Dates: Saturday 26 and Sunday 27 February 2022
7 pm Japan
9 pm AEDT
10 am GMT
Location: zoom (The link will be provided via email.)
Artists
26th: Catherine Walker & Yasumasa Yuasa + Vanessa Lim & Tamami Sato (UCL artists and Tsukuba artists)
27th: Rebecca Martin & Ganbayar Dolgion + Rebecca Martin & Mao Ito (Victorian College of the Arts artists & Tsukuba artists)