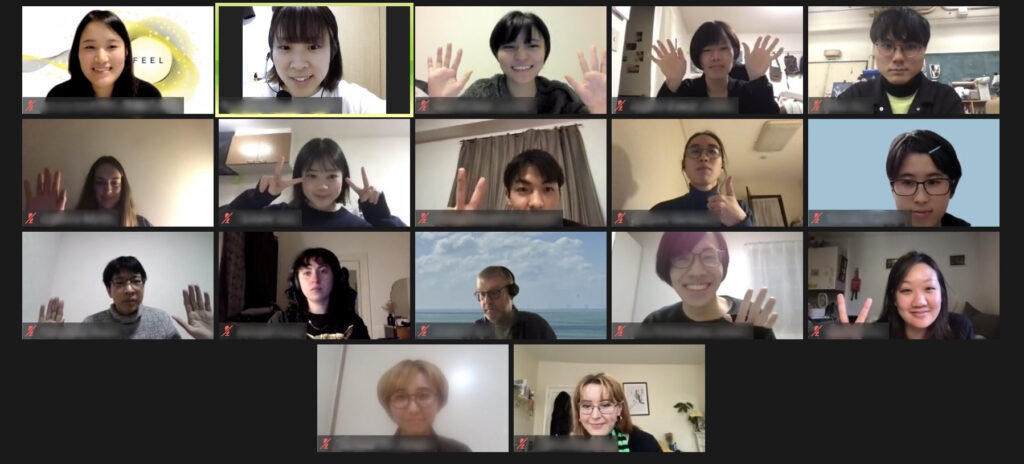 2021年12月12日にOpening sessionが行われました。 
お互いの交流を図るため、2回のセッションでは自己紹介の他、CAIR2022のテーマでもある『feel』についての意見交換なども行われました。最後にアーティストのペアと担当キュレーターが発表され、CAIR2022の活動が本格始動しました。 
CAIR2022では、筑波と海外のアーティストがバディを組み、担当キュレーターと共にコラボレーション制作を行います。レジデンス期間中、週1回オンラインでチームミーティングを行い、互いについて理解を深めながら制作を行ったり、ワークショップの開催に向けて計画を立てたりして交流を深めます。
コラボレーションの中で生まれた変化の過程を記録し、TwitterやInstagramで順次公開していきます。
The opening session was held on December 12, 2021.
In order to get to know each other, we had different programmes include self-introductions and exchange of ideas about the theme of the year 'feel'. The artist buddies and their curators were announced at the end of the session, CAIR 2022 has finally started.
In CAIR2022, student artists from overseas and the University of Tsukuba will be working together as buddies to create collaborative art while communicating with their curators. During the residence, we will have online team meetings, deepen understandings each other through making art/planning the workshop.
 We will record the changing processes that generated though collaboration, and regularly show them on Twitter and Instagram.